A HOT franchise that's fanning out across America like wildfire!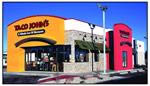 We're growing extraordinarily fast and Taco John's is seeking ambitious folks like you to open a franchise in your area. Since 1969 we've become successful by serving generous portions of high-quality, authentic Mexican food for a fair price. And now, demand is increasing and exceeding our goals. We want you to join us immediately, so we've made it easy to start. We have a franchise support center that provides ongoing support from the very beginning...From site selection and facility design to training; our team will assist you, step by step. As we have for hundreds of stores - we'll be there for your Grand Opening, consultations and beyond...
History of Taco John's
In April, 1968, a small taco stand opened in Cheyenne, Wyoming. The "Taco House" was an instant success because of the unique seasonings used in its tasty tacos and burritos. In 1969 our founders began franchising this concept as "Taco John's." The first restaurants were brightly colored modular buildings that were manufactured in Cheyenne and trucked to the site.
Today, Taco John's celebrates 36 years of excellence. There are over 400 Taco John's, in both small and large communities. Our buildings have changed dramatically and we now have a great new look for the future. We have added drive-thru technology and become a leader in this segment of the fast food industry. Other service, packaging, and recipe changes have been made and new products added. Despite the progress and innovation, the core elements that made Taco John's a success over the years have remained the same. Our commitment remains to serve generous portions of fresh tasting, boldly seasoned, Mexican food served quickly and pleasantly for a fair price. That's what Taco John's is still all about. We call it . . .West-Mex Attitude.
Join us and you will receive:
Use of the Taco John's brand name, systems, logo and store design.
A comprehensive four or five week Taco John's Management Training.
Program designed to prepare you for daily operation of a Taco John's Restaurant.
Construction & design support.
Franchise development support and a step-by step guide through the process of new-store layout, ordering of equipment, furniture, and fixtures.
Support and training assistance in pre-opening and opening.
Ongoing support from: Taco John's Franchise Business Consultants, the Taco John's Research & Development Department, Purchasing & Distribution Department, and marketing support and assistance for local store and media marketing.
Prospective Franchisee Qualifications
What is my Investment?
Total Estimated Initial Investment:
$326,000 (low end) to $1,071,000(high end)
Prospective franchisees take part in a thorough three-phase review process that looks at each applicant's background, experience, and plans in three important areas: Finance, Operations, and Real Estate. To financially qualify for a Taco John's restaurant, you need a net worth of at least $400,000, with about $150,000 in liquid assets. Along with the financial assessment, we will review your résumé to determine your business and restaurant experience, and your management skills. We will schedule a visit, at your expense, to our Franchise Support Center in Cheyenne where you will meet senior members of our staff. During this visit we will review your business plan with you.
This Taco John's franchise opportunity and other franchise business opportunities, businesses and franchises for sale on this web site are not to be considered as an "offering", "franchise offering", suggestion or recommendation by Franchise Leader™. This advertisement depends entirely on the truthfulness of the information provided by our advertisers which includes, but is not limited to, franchisers, franchise brokers, franchise consultants and business brokers. Franchise Leader™ recommends that you consult a lawyer, financial consultant, accountant or professional advisor before buying a franchise or business opportunity or any type of business. By using this form or any part of our website, you have agreed to all terms and conditions of Franchise Leader™. Please review our