At Pizza Inn,
our success begins with yours.
From professional site selection and construction assistance, through comprehensive training at our Dallas corporate location, you will have 50 years of experience both behind you, and by your side, as you
build your business and beyond.
Below is a summary of the support you will receive from all levels of the Pizza Inn management team: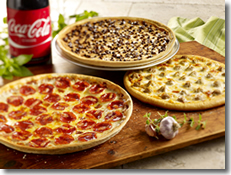 Pre-Opening training both at our facility in Dallas, and at the restaurant
On-going business consulting
Marketing support using print, TV and radio advertising
Marketing services support to customize and coordinate local programs
Weekly deliveries from Norco services for Equipment, food products and supplies
As a Pizza Inn franchisee you have the choice of three different store concepts:
BUFFET RESTAURANT –
Minimum Liquid Capital Required $150,000
The Pizza Inn Buffet restaurants range in size from 3,000-5,000 square feet, and feature a back fed buffet bar. Many locations may include a party room and game room. All locations will feature décor that highlights our 50-year heritage. This restaurant provides a family-style atmosphere offering dine-in, carry-out, and delivery service. Our restaurants offer continuous buffet service featuring our full menu of pizzas, pasta, salads, appetizers, desserts, and beverages. This restaurant can be located in retail strip centers or constructed as a freestanding building.
DELIVERY/ CARRYOUT RESTAURANT –
Minimum Liquid Capital Required $80,000
A Pizza Inn delivery/carry-out concept (Delco) is ideal for the carry-out and delivery demands of today's customer. Like the buffet restaurant, a Delco carries a full menu of pizzas, pasta, salads, appetizers, desserts and beverages. It also compliments a market area that features our buffet restaurant. These restaurants are typically located in retail strip centers adjacent to sufficiently populated area to ensure a strong delivery base. These units typically range in size from 900-1200 square feet. Good visibility and high traffic counts are important elements of a successful Delco.
EXPRESS RESTAURANT
- Minimum Liquid Capital Required $30,000
Pizza Inn Express is ideal for high traffic sites with "customers-on-the-go". This "mini" version of the Pizza Inn operation offers a limited menu centered on Pizza Inn's pizzas along with several appetizers, all made with the same quality ingredients found throughout our chain. Advantages include a low initial investment, minimal space (only 200-400 square feet) and a simplified menu for lower operating and labor cost. This non-traditional restaurant is great for convenience stores, airports, hotels, travel plazas, college dining halls and other high-traffic locations.
Our Mission
To serve our neighbors great tasting, fresh made pizza, each and every day.
We are brightening up our brand image with a
new, energized design
. Our business model has been updated to ensure our brand in South Carolina delivers the same high quality customer experience as it does in Texas. If you are up to the challenges of being a Pizza Inn franchise, we will work together to create a brand we can all be proud of.
Owning Your Own Business is Easier With Pizza Inn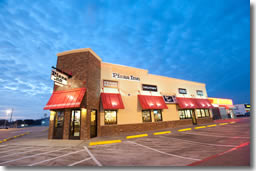 Pizza Inn opened its first restaurant in 1958, when pizza was considered a novelty food. Today,
pizza is a $30 billion dollar business.
Pizza Inn has always had a great product, and now we are re-energizing our efforts to strengthen the brand best known for its
made-from-scratch
pizzas.
Now more than ever,
Pizza Inn is all about quality
: quality products, quality service and quality franchisees.
This Pizza Inn franchise opportunity and other franchise business opportunities, businesses and franchises for sale on this web site are not to be considered as an "offering", "franchise offering", suggestion or recommendation by Franchise Leader™. This advertisement depends entirely on the truthfulness of the information provided by our advertisers which includes, but is not limited to, franchisers, franchise brokers, franchise consultants and business brokers. Franchise Leader™ recommends that you consult a lawyer, financial consultant, accountant or professional advisor before buying a franchise or business opportunity or any type of business. By using this form or any part of our website, you have agreed to all terms and conditions of Franchise Leader™. Please review our