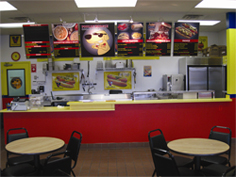 Hot dogs are the anchor of the business, accounting for about 65% of sales, but Philly Dawgz is more than just hot dogs. Customers come for the dogs but come back for other favorites, including Italian beef sandwiches, barbeque items, Latin fare, and great soups and sides.
While customers enjoy a variety of menu items, potential franchisees can choose from a variety of franchise offerings. A Philly Dawgz franchise can be set up in a food court, kiosk, or strip mall where customers come to you, or you can invest in a Philly Dawgz trailer to go directly to your customers. "This business is designed to fit both the customer and the entrepreneur," says Kloeber.
A Philly Dawgz franchise has an all-inclusive cost of between $75,000 and $125,000, and franchise fees are 3.5%, with 1% for advertising. "We're interested in putting more money into your pocket, not taking a big pile out of it."
Solid Partnerships Form the Backbone of the Business—and Reduce Your Costs
Partnerships are the backbone of any business but Philly Dawgz takes the partnership commitment further than the typical franchisor-franchisee relationship. The company provides complete front end and back office training, grand opening on-site assistance, can be reached by phone 24/7, and the corporate management team is as involved as you want it to be. But you don't have to buy everything from the franchisor.
Instead, the company has set up national accounts with vendor partners for your direct access and, as more and more franchises join the network, prices will continue to drop. "You have the best of both worlds," says Kloeber. "You are independent and taking care of yourself, and you're able to use the national accounts to hold your prices down."
In just three short years, Philly Dawgz went from two restaurants to seven that are open or committed to opening, and interest grows with every franchise show they attend.
Business Sense is Foundation of Success
Many franchises are launched by business owner-operators who envision potential for expansion. Philly Dawgz was launched by a highly successful, multi-business owner who spent two and half years figuring out how to trim costs and make it as profitable as possible for those who sign up. That business background and cost-conscious thinking shapes the growing success of the Philly Dawgz franchise network, and reflects the passion and perspective of its owner.
"I want you to be the best entrepreneur you can be," says Kloeber, "and I have the product that will allow you to do it."
A Food Franchise that Even Your Landlord Will Love
Not every food franchise can boast that landlords welcome it with open arms, but Philly Dawgz can. With its unique and authentic way of preparing food, there are no grease traps or ventilation systems to install so resistance from a potential landlord is nonexistent. And, for the franchisee, that keeps investment costs down for equipment, staffing, and square footage needed to operate the business.
A Philly Dawgz franchise brings Chicago-style flavor out of Chicago. Touting a diverse menu and a simple cooking method, it's shaking up an industry dominated by traditional burger chains.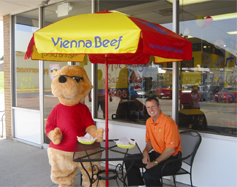 "My goal," says Dave Kloeber, founder and CEO of Philly Dawgz Franchise, Inc., "is to make it easy for entrepreneurs to get into a business and be successful. That means offering a franchise that has a low cost of entry, is easy to operate, maintains consistent quality, and offers a variety of menu items that bring customers back again and again."
Joe Koeppl, president, agrees. "I am a multi-unit franchisee so, before I came to work with Dave, I put my "franchisee hat" on to scrutinize every concern a potential franchise owner would have." When it comes to operating a food franchise, those critical questions revolve around overhead: the amount of space needed to house both the work area and customer seating, associated rental costs and space modifications, the investment in equipment, and required staffing.
Yet, with every question asked, Kloeber had an answer that quickly dispelled those concerns. A Philly Dawgz franchise doesn't require a kitchen, chefs, or extensive equipment, space or staff. In fact, you don't even need food or restaurant experience. It's a franchisee's—and landlord's—dream.
Variety is the Spice of Life—and the Catalyst for Philly Dawgz' Appeal
Hot dogs are a $5 billion+ industry and, arguably, the 'best of the best' are made in Chicago, home to more than 2,000 hot dog establishments, ranging from street vendors to specialty places. The secret to a great Chicago-style hot dog is more than just the 100% Vienna beef—it's the preparation. Using a simple steaming method, food is cooked to perfection every time, and you don't need a kitchen or specialty chef to prepare it.
This Philly Dawgz franchise opportunity and other franchise business opportunities, businesses and franchises for sale on this web site are not to be considered as an "offering", "franchise offering", suggestion or recommendation by Franchise Leader™. This advertisement depends entirely on the truthfulness of the information provided by our advertisers which includes, but is not limited to, franchisers, franchise brokers, franchise consultants and business brokers. Franchise Leader™ recommends that you consult a lawyer, financial consultant, accountant or professional advisor before buying a franchise or business opportunity or any type of business. By using this form or any part of our website, you have agreed to all terms and conditions of Franchise Leader™. Please review our