A Unique Concept that Saves Businesses Time and Money
PIRTEK plays a huge and much needed role in keeping businesses up and running and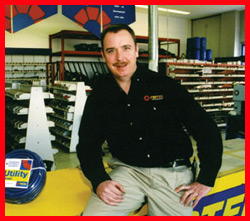 as the only onsite provider of hydraulic hose repair, now is a great time to join this stable and successful concept. Ray explained, "What makes PIRTEK so unique is the fact that we offer emergency service to our customers. If a hydraulic hose is broken, it can mean days of lost work. We prevent this for our customers, saving them a lot of money."

He continued, "Our customers are always so surprised by how quickly our technicians come out. Our estimated time of arrival is one hour or less because we have our technicians in designated areas throughout the day so they can reach customers quickly. It costs many of our customers $1,000 a day to lease equipment. Plus, they must hire someone to work the equipment. If it breaks down, they are losing a lot of time and money. PIRTEK has the fastest arrival rate in the industry and that's why our customers choose us!"
No Industry Experience is Necessary!
You do not need industry or technical experience to own a PIRTEK franchise. As the owner of a PIRTEK franchise, your role will not be to service PIRTEK USAs. As the owner of a franchise, your role will not be to service clients. In Ray and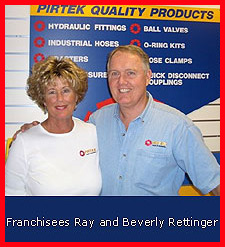 Beverly's business, Ray works on sales and networking with prospective PIRTEK USAs while Beverly handles the administrative and financial end of the business. They currently have an Operations Manager and 5 technicians at their location. Ray said, "PIRTEK does not require us to be technical because our technicians do all of the technical work. While our technicians are out on the vans, we also have a front office with a retail storefront, where we sell hoses and fittings. Our Operations Manager services customers when they visit us."

PIRTEK is a worldwide industry leader and their experience and knowledge will be invaluable as you start and grow your business. You will receive comprehensive training and unparalleled support as Ray explained, "We felt very comfortable with the people in the home office. They have offered us excellent support. This is a service oriented business and the home office offers its franchisees great service as well!"

Ray and Beverly's goal is to increase the number of technicians they have at their location and then open another office in the future.

The couple concluded, "Eventually we hope to hire people to run our business. We would highly recommend this business to someone with a sales or business management background. You must enjoy networking and going and meeting people. A technical and mechanical background is not necessary at all."
A Unique, High-Growth Concept
with Massive Worldwide Market Demand
Ray and Beverly Rettinger of Orlando, Florida own a growing and very successful PIRTEK franchise. Ray was previously in sales management and recruiting and
Beverly had worked for Xerox in the past. Not mechanically inclined, the couple searched for a business that did not require mechanical or technical experience but did seek individuals with sales and management experience. They discovered PIRTEK, noticed that the company's home office was close by, and decided to learn more about the business.

"After 9/11, there wasn't a lot of job security. Ray lost several jobs and at the age of 60, we decided we wanted to be in control of our future, and not have to look for new jobs. We knew that if we could be successful for someone else, we could be successful for ourselves," explained Beverly.
A Massive, High-Growth Industry
Hydraulics is everywhere and just about everything from the space shuttle to the car you drive has a hydraulic hose. It's a hidden market and it's out there to be had. While there are hydraulic hose suppliers everywhere, PIRTEK is the only onsite service provider in the United States. In fact, PIRTEK is the #1 service provider in the industry in the world, helping customers reduce their downtime and ultimately saving companies money.

The couple explained, "PIRTEK is such a unique, niche business. We offer onsite repair of hydraulic hoses, which are practically everyplace you look! Hydraulic hoses are big business and we have a very broad customer base. Garbage trucks, forklifts, ambulances, construction equipment, car transporters...they all have hydraulic hoses and they all need our services at one time or another. The construction business in Florida is booming, which means lots of customers for us. Business has been great."


This PIRTEK USA franchise opportunity and other franchise business opportunities, businesses and franchises for sale on this web site are not to be considered as an "offering", "franchise offering", suggestion or recommendation by Franchise Leader™. This advertisement depends entirely on the truthfulness of the information provided by our advertisers which includes, but is not limited to, franchisers, franchise brokers, franchise consultants and business brokers. Franchise Leader™ recommends that you consult a lawyer, financial consultant, accountant or professional advisor before buying a franchise or business opportunity or any type of business. By using this form or any part of our website, you have agreed to all terms and conditions of Franchise Leader™. Please review our