Mr. Handyman is World-Class
Mr. Handyman Is The Only Home Services Franchise To Receive The Prestigious WORLD-CLASS FRANCHISE Award.

According to the independent Franchise Research Institute, "the highest honor any franchise company can earn is the enthusiastic support of their own franchise community. Mr. Handyman has earned that distinction."
The World-Class Franchise With A World-Class Support Team.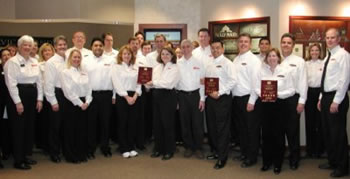 Your Mr. Handyman support team is passionate about your success.
As a Mr. Handyman owner, you'll experience a unique business opportunity:
Family-friendly lifestyle
Great business potential
A modest initial investment
Booming handyman customer demand
Proven franchise systems
Strong national brand name
Our "Right Start" program to get you going
Our ToolboxTM management software to keep you going
The on-going support of a professional and seasoned franchisor who's focused
on your success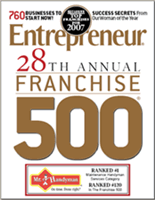 "We're proud to receive the World Class Franchise award. It validates our commitment and passion for our franchisee's success."
-Todd Recknagel, President
World-Class Vision, Passion, And Performance.
If you want to grow an equity business that provides financial rewards and enjoy a family-friendly lifestyle, Mr. Handyman is the franchise you.
We invite you to learn what our franchisees already know, that Mr. Handyman is the WORLD CLASS FRANCHISE on which to build your American Dream.
With our training and support, you'll have the tools to build a successful Mr. Handyman business .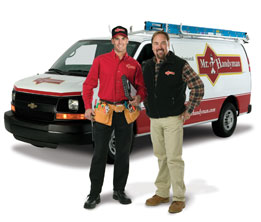 Our
Right Start ™
program will have you on solid footing day one. It covers everything from setting up your business to placing your first Mr. Handyman ads.
You'll spend one week training at our corporate office in Ann Arbor; and you'll experience in-field training and on-going support through our intranet site, 800# phone link, conference calls, regional meetings, conventions, and must-read publications. Best of all, as a Mr. Handyman owner you'll have access to
Toolbox™
, our proprietary management software that simplifies every part of your business.
And speaking of support, if you qualify for a Mr. Handyman franchise, we'll invite you to a
Discovery Day
at our home office. You'll get to see me in our new television commercials. I play another supporting role to a star, Mr. Handyman.
Recession Resistant * Cash Business * Scalable * Number One Handyman Franchise * You Own It * Your Technicians Fix, Repair and Replace * Rewarding Lifestyle Benefits.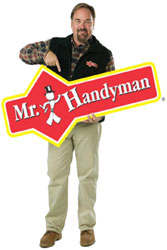 Take it from me, Richard Karn
(I'm the national spokesperson for Mr. Handyman—Entrepreneur magazine's #1 handyman franchise. You may recognize me as an actor and home improvement guru),
Mr. Handyman is the franchise opportunity for you.
If you want to grow an equity business, dig into Mr. Handyman. We're the solution to household fix-it problems for millions of time-starved, two-income families, and for "do-it-for-me" Baby-Boomers.
For a modest initial investment, Mr. Handyman is a rewardingly efficient franchise opportunity with the support from seasoned pros who want you to succeed.
And this is important: to be a successful Mr. Handyman owner, you don't have to be handy around the house, just an experienced hands-on manager. My friends at Mr. Handyman will show you how to recruit, train, and motivate good handyman employees. Your handyman technicians will do the work; you'll manage the business.
"What I like the most about the Mr. Handyman opportunity is that we're on the front end of an opportunity…over the next few years the handyman business is going to be a multi-billion dollar industry."
~Neil Brooks, Mr. Handyman owner
This Mr. Handyman franchise opportunity and other franchise business opportunities, businesses and franchises for sale on this web site are not to be considered as an "offering", "franchise offering", suggestion or recommendation by Franchise Leader™. This advertisement depends entirely on the truthfulness of the information provided by our advertisers which includes, but is not limited to, franchisers, franchise brokers, franchise consultants and business brokers. Franchise Leader™ recommends that you consult a lawyer, financial consultant, accountant or professional advisor before buying a franchise or business opportunity or any type of business. By using this form or any part of our website, you have agreed to all terms and conditions of Franchise Leader™. Please review our