You have no obligation to us at any point in using this service. As soon as you submit the form, one of our consultants will contact you within 24 hours and begin answering your questions.
---

ONLY AT MATCHPOINT - NEW! - Discover your Unique Entrepreneurial Profile
MatchPoint's philosophy is rooted in the belief that optimal success in franchising is achieved through matching the RIGHT individuals with the RIGHT franchise systems.
Take advantage of MatchPoint's Heat Map test! It provides YOU with unique insights into your skills, experience and personality. This knowledge helps the MatchPoint Senior Industry professional identify the opportunities that best match your needs.
---
FREE Franchise Consultation Services
Start your own Business today!
Use MatchPoint Network's Franchise Finder Services
With premium franchise systems available in the United States, you have a huge choice. As a result, the task of evaluating and selecting one that suits you is daunting!
However, unless you really understand what you should look for in a franchise, you could make a very expensive mistake.
It's a situation where you need independent advice and guidance, to help you minimise your risk by introducing you to suitable franchises, and guiding you through the appraisal and purchasing process.
This
FREE SERVICE
from
MatchPoint
saves individuals like you, time, money & effort in finding the right franchise & that meets your requirements.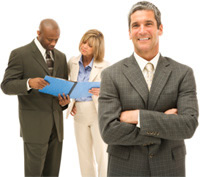 MatchPoint's team of highly experienced consultants provide you with:
an in-depth consultation that helps you assess your needs, skills, and goals
a "matching" and review of pre-screened franchise companies that are right for you
a personal introduction to selected franchise companies' executives so that you may begin your investigation process the right way
on-going support and education throughout your entire process
"shared" years of experience in the franchise industry
This MatchPoint Franchise Consulting Network franchise opportunity and other franchise business opportunities, businesses and franchises for sale on this web site are not to be considered as an "offering", "franchise offering", suggestion or recommendation by Franchise Leader™. This advertisement depends entirely on the truthfulness of the information provided by our advertisers which includes, but is not limited to, franchisers, franchise brokers, franchise consultants and business brokers. Franchise Leader™ recommends that you consult a lawyer, financial consultant, accountant or professional advisor before buying a franchise or business opportunity or any type of business. By using this form or any part of our website, you have agreed to all terms and conditions of Franchise Leader™. Please review our