Monkey Bizness is now offering the opportunity of a lifetime. We are franchising nationwide and looking for the right people who want to own a fun and wholesome business in the children's amusement market.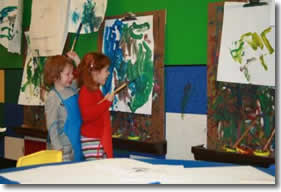 Little Monkey Bizness is a new franchise concept from the creators of Monkey Bizness. Little Monkey Bizness is designed with parents and "little" children in mind, featuring a full-service coffee house that overlooks a 3,500-4,500 square foot play area (including an arts and crafts room). This is the newest and most exciting model in children's amusement. We are franchising nationwide and looking for the enthusiastic individuals to join us. As a Little Monkey Bizness franchisee you'll own a fun and unique concept in the high-demand children's services industry.
Capitalize on Fun, Family-Friendly Activities
Parents recognize the need to nurture their children, exposing them to creative, active and wholesome play environments, but what about themselves? They are entitled to a little break, even while the kids play. Until Little Monkey Bizness, places like this were only a vision. Well, now it's a reality. Little Monkey Bizness caters to parents who care about a safe, clean play place for their kids with age-appropriate equipment, but who also feel the need to nurture themselves. Little Monkey Bizness provides a place where parents (and kids) literally get the best of both worlds. Parents can enjoy gourmet beverages, sandwiches, fresh salads and scrumptious pastries, and we also offer healthy food options for kids. Your center can host open play times as well as birthday parties. As a Little Monkey Bizness franchisee you'll be well positioned to capitalize on the demand for fun, holesome activities that appeal to both children and their parents.
MORE THAN JUST A GREAT MODEL
Monkey Bizness is more than just a great business model. When it comes to buying a franchise, you want support. From finding the right location, building out your facility, onsite grand opening assistance and ongoing support, you need someone who has your success in mind. Monkey Bizness is committed to the success of our franchises. Below is a list of the support that you can expect from us:
REAL ESTATE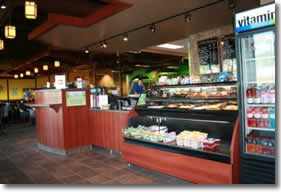 The cornerstone to any successful retail franchise is finding the right location. However, commercial real estate is not an area where most people have much expertise. That is why our real estate team will work with you every step of the way to find the best location possible in your geographic territory. From extensive demographic studies, to competitor analysis, site selection matrix and lease negotiations (including negotiating tenant finish allowances), we won't stop until we've found the right location for you.
PRE – OPENING
Your Monkey Bizness franchise support representative will work with you from the beginning through your store opening. We'll assist you in blueprint evaluation, design and layout to make sure your getting maximum use out of every square foot. Once construction starts, we'll help you monitor the progress and make sure everything is being done correctly. From office equipment, to play room equipment and décor package, we'll assist you every step of the way to make sure your facility is ready to go for your store opening. It's all laid out for you including a detailed Operations Manual that provides guidelines for running every aspect of your Monkey Bizness franchise.
TRAINING
Prior to opening you will attend training at a designated Monkey Bizness facility to learn every aspect of running your new Monkey Bizness franchise. From day-to-day operations, managing your staff, marketing your business and maintaining your facility, we'll teach you everything you need to know to successfully operate your business.
GRAND OPENING
Everything leads up to your store opening and we'll leave no stone unturned when it comes to getting people in the door. In addition, you will have a dedicated Monkey Bizness representative at your facility for the week leading up to and including your store opening to make sure everything goes smoothly.
ONGOING SUPPORT
Our support doesn't end with your Grand Opening. You are now part of the Monkey Bizness family, and, as such, you will be treated like family. We will share stories of success, be available to answer questions and discuss your ideas on how to keep your Monkey Bizness franchise on top. Your success is our success and nothing is more important!
INVESTMENT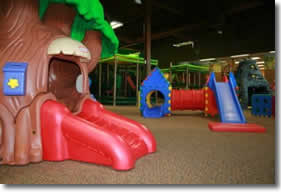 MONKEY BIZNESS
Your initial investment to start a Monkey Bizness franchise will be between $474,500 and $586,000* which includes your $30,000 franchise fee, construction and equipment costs. Applicants will need a net worth of approximately $250,000 to $300,000 to qualify for a franchise. Qualified applicants will receive our FDD (Franchise Disclosure Document), which provides greater details on a Monkey Bizness franchise.
LITTLE MONKEY BIZNESS
Your initial investment to start a Little Monkey Bizness franchise will be between $295,000 and $410,500* which includes your $30,000 franchise fee, construction and equipment costs. Applicants will need a net worth of approximately $150,000 to qualify for a franchise. Qualified applicants will receive our FDD (Franchise Disclosure Document)
This Little Monkey Bizness franchise opportunity and other franchise business opportunities, businesses and franchises for sale on this web site are not to be considered as an "offering", "franchise offering", suggestion or recommendation by Franchise Leader™. This advertisement depends entirely on the truthfulness of the information provided by our advertisers which includes, but is not limited to, franchisers, franchise brokers, franchise consultants and business brokers. Franchise Leader™ recommends that you consult a lawyer, financial consultant, accountant or professional advisor before buying a franchise or business opportunity or any type of business. By using this form or any part of our website, you have agreed to all terms and conditions of Franchise Leader™. Please review our