What separates Koko FitClub from all other fitness franchises?
Becoming a Koko FitClub owner puts you at the forefront of the booming multi-billion dollar health and fitness industry.
Fitness is a "feel good" industry that only promises to grow as more and more people turn to exercise to improve the quality and longevity of their lives. You can feel proud knowing that you are helping your community take steps towards a healthier lifestyle. But you'll feel even better knowing you are doing so with a significant edge over any other fitness club around.
A truly competitive advantage - The Koko Smartraining™ System
Koko FitClub is the exclusive franchisor of the Koko Smartraining™ System, the most advanced 30-minute strength and cardio personal training system and equipment in the industry. It's the only computerized personal training system of its kind…and you can only find it at Koko FitClub. Our award-winning Smartraining System technology has earned such honors as the 2008 Nova7 Award for Outstanding Innovation in Websites and New Technology.
Not just another run-of-the-mill "gym"
Koko is more than just a place to work out: it's a whole new way to exercise that is redefining the fitness industry. Koko gives members a way to include long-term fitness plans into their life. A plan that is efficient, simple to follow, efficient and enjoyable.
Most health clubs have the same equipment and lackluster service, and are fighting for the same members — the 20% of the population who currently belong to a gym. Koko FitClub appeals to the remaining 80% of ex-exercisers, people who are pressed for time and want something DIFFERENT and BETTER than a typical gym.
Koko FitClub: The industry's most exciting new health club franchise

Koko FitClub is the exclusive franchisor of the Koko Smartraining™ System, the most advanced 30-minute strength and cardio personal training system in the industry.
It's personal training, without the personal trainer
Unlimited sessions just $49/mo
No scheduling, workout out whenever you want
Fully-guided, total body conditioning in just 30 minutes
Completely customized to your body and your goals
Dynamically changes each day for maximum results and no boredom
Proven results. More than 12 million calories burned to-date
Getting started
We have taken great care and pride in building every detail of Koko FitClub to deliver the highest standards of exceptional member service and operational excellence. We are seeking FitClub owners who share our passion for success.
Take the first step to Koko FitClub ownership and complete a Request Information form below. A member of our Koko team will contact you to discuss next steps.
We look forward to learning more about you and together seeing if Koko FitClub is right for you!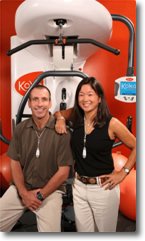 Here's just some of the ways we help make each Koko FitClub franchise a success:
Koko delivers a superior customer experience every day, even when you're not there. The biggest challenges of any franchise offering a high-value product to your customers maintaining high service levels, when you're not on site. Is self service. Yet provides consistent, world-class exercise instruction, real-time guidance and feedback and powerful results tracking on the web.
Koko gives you a big competitive advantage — no imitators. Differentiating yourself from the competition is one of the most challenging components of any business. With Koko FitClub, that's easy. Every other health club has essentially the same equipment. Only Koko FitClub offers the revolutionary, Smartraining.
System and equipment.
Koko minimizes management headaches. Koko's use of technology means you can operate a Koko FitClub with just a single person. Our Smartraining System provides high-level personal training to your member, without having to hire expensive personal trainers. And, with convenient key card access, your members can access your club during off-peak hours without any staff at all. No hiring headaches, no complex staffing requirements. No more worrying.
Simple to operate — no purchasing, no inventory management, no seasonality. With Koko, you'll have zero inventories to manage, zero weekly purchases, zero perishables. And, with annual memberships, your business runs on convenient monthly EFT transactions, providing a predictable revenue stream every month.
Minimal owner time on-site. Koko FitClubs are so simple to operate you can run multiple units with ease, making the business economics all the more lucrative. Ask about multi-unit incentives!
Koko is affordable to own and operate
Low start up investment. You can start a club for as little as $87,000!
Low cost operation. Our unique, sleek design requires just 1800 square feet, which means low monthly rent/facility expenses.
With Koko FitClub, now everyone can afford personal training. Our groundbreaking Smartraining System provides the benefits of world class exercise coaching and guidance, completely customized and personalized to each member.
The system plans out individual year-long exercise plans, then guides members through each daily workout on our state-of-the-art strength and cardio equipment, and it saves all their results so they can track their progress on their own personal web page. It's highly effective and super efficient. Each workout is just 30 minutes or less, so Koko fits into even the busiest person's life.
Even more, our technology makes owning and operating Koko FitClubs as affordable and simple for owners as it is for members.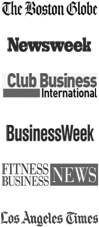 There's truly nothing else like Koko FitClub. Discover for yourself the 30-minute personal training sensation that thousands of busy men and women have already fallen in love with.
Here's what the industry has to say about Koko Smartraining
"The next BIG thing in fitness." — Club Business International
"What the fitness industry needs." — BusinessWeek
"The future of exercise is here!" — Los Angeles Times
"Koko tailors your workout for you so you make the best gains possible for the time you spend at the gym." — Newsweek
"There's nothing like it." — Boston Globe
This KoKo FitClub franchise opportunity and other franchise business opportunities, businesses and franchises for sale on this web site are not to be considered as an "offering", "franchise offering", suggestion or recommendation by Franchise Leader™. This advertisement depends entirely on the truthfulness of the information provided by our advertisers which includes, but is not limited to, franchisers, franchise brokers, franchise consultants and business brokers. Franchise Leader™ recommends that you consult a lawyer, financial consultant, accountant or professional advisor before buying a franchise or business opportunity or any type of business. By using this form or any part of our website, you have agreed to all terms and conditions of Franchise Leader™. Please review our