Getting Started
If you are sincerely looking for a business that you can call your own—with a strong support system in place to get you started strong and to keep you on track, then we'd like to speak with you about opening a Johnnie's in your area.
Johnnie's Dog House™ - It's your neighborhood place which builds
generations of old-fashioned memories.
The fast-casual restaurant is a natural fit in:
Residential Business Districts
Town & Lifestyle Centers
Beach & Shore Communities
College Campuses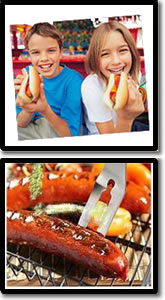 Our Fully Self-Contained Mobile Kiosk Solution, 100 to 300 square feet, is designed in such a way it will never be forgotten. It offers the style and selection of the Johnnie's Dog House™ brand, capable of satisfying large crowds anywhere, certified for indoor use, and is built with a ruggedness and utility. We use all NSF rated parts and materials that will keep it looking great and attracting customers and profits for decades.
The Fully Self-Contained Mobile Kiosk Solution is well suited to locations such as:
Airports
Malls
Transportation Centers
Casinos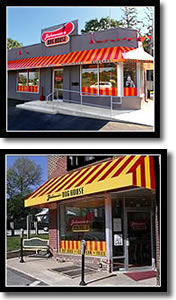 Your Future With Johnnie's
With an eye towards the future, we can offer you several venue options that compete in the booming fast-casual restaurant business, both locally and nationally. We are seeking serious franchise candidates who want to begin with a Fast Casual Restaurant and develop additional Johnnie's outlets over time.
Our Fast Casual Restaurant, 1000 to 1500 square feet, offers a welcoming entrance, nostalgic décor, and vintage photographs from different generations. Your Johnnie's location will attract customers from all walks of life. You'll also appeal to the "grab and go" customer as well as families who want to spend time enjoying a good meal followed up with a great desert treat. Your customers will also come to you when they need a unique catering experience.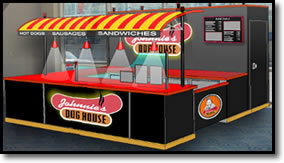 If you like food and would like to be part of a growing franchise brand, then Johnnie's Dog House may be for you. You'll not only be a franchisee, you'll be part of a national brand that provides a time-tested and universally loved food—hot dogs! We offer a wide variety of hot dog styles that brings the best type of dogs from all over the world to your home town.
Our food, coupled with a comfortable-nostalgic atmosphere has made Johnnie's Dog House a destination restaurant for friends and families of all ages. Our brand fits with every demographic profile; Men, Women; Families with Children, Children of All Ages, Students, Blue and White Collar Workers, and Senior citizens. Who doesn't enjoy a quality hot dog?