It does not get better than this in self-employment!
90% of Weight Watchers and Jenny Craig's revenue is a female dollar and yet the owners will either supplement, transition, replace or completely break away from their career.
Simply put...
weight loss clients invest more to achieve their personal goal weight since NO two clients have the same amount of weight to lose.
WHY?
Because the weight loss industry has a dynamic
RETURN ON INVESTMENT!
CONTACT US TODAY!

America's only unique 3-Phase Weight Loss - Body Sculpting – Cardiovascular Salon for Women of all sizes, ages and weight
INCHESAWEIGH offers an exciting advantage to the weight loss consumer...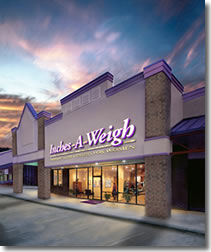 INCHESAWEIGH is a 3-Phase Weight Loss
method in a 'Day Spa' atmosphere.
"The major brands within the weight loss industry
DENY
their clients on-site exercise and women's gyms
ALLOW
clients who are expecting to lose weight to come and go as they please. Our unique 3-Phase method focuses on our clients' weight loss results and a lasting lifestyle change they deserve." Scott Simcik, Founder
A SOLID INVESTMENT - INCHESAWEIGH!
Owners enjoy the features inherent in a very lucrative industry. 60% of Americans are considered overweight! A low start-up cost combined with a low weekly break-even point with only one (1) Key Center Director will generate revenue on your behalf.



Click on Request Information for FREE info on how to open a InchesAWeigh franchise today!
Please Note:
This InchesAWeigh franchise opportunity and other franchise business opportunities, businesses and franchises for sale on this web site are not to be considered as an "offering", "franchise offering", suggestion or recommendation by Franchise Leader™. This advertisement depends entirely on the truthfulness of the information provided by our advertisers which includes, but is not limited to, franchisers, franchise brokers, franchise consultants and business brokers. Franchise Leader™ recommends that you consult a lawyer, financial consultant, accountant or professional advisor before buying a franchise or business opportunity or any type of business. By using this form or any part of our website, you have agreed to all terms and conditions of Franchise Leader™. Please review our
Terms & Conditions
for more information.