Low Investment with Unlimited Income Potential
Our low estimated initial investment for your first three months of operation is $23,030-$40,200 and includes our $15,000-$22,500 franchise fee.
Compare The Grout Doctor® Benefits
10% advertising allowance
$1000 vehicle wrap allowance
No royalties for first two months
50% royalty discount for next 4 months
Declining royalty with a cap
Comprehensive start-up package included
72 hours of hands-on services training
Multiple Revenue Streams
No minimum inventory requirements
Uncomplicated niche business / no accounts receivables
Minimal overhead / home-based / employees optional
Mostly residential work / normal work hours
No leases / home-based business
Minimal overhead / Employees optional
50% discount for additional franchises
20% discount for veterans
20% discount for the first franchise in each state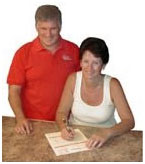 Ranked in Entrepreneur Magazine's 2009 Franchise 500, The Grout Doctor® is the most experienced, most respected and most recognized brand in the business! The Grout Doctor® renews existing grout, tile and natural stone to its original beauty.
Why a Grout, Tile and Stone Care Franchise?
Tremendous Demand For Your Services
In 2007, ceramic tile sales totaled $2.7 billion and the ceramic tile volume totaled 2.66 billion square feet! Ceramic tile placed second in dollars and third in volume in the $21.67 billion floor covering market! The growth potential for ceramic tile in the USA is still very high and can increase 3 to 7 times or more, leading the way to a very healthy future for all participants in the ceramic tile industry!*
This indicates a huge demand for the aftermarket care of tile grout. As the industry leader since 1992, The Grout Doctor® grout franchise is ideally positioned to harness this demand.
*Source: Floor Covering Weekly - 2008 Statistical Report
Fragmented Competition
The current composition of grout, tile and stone care services is a classic example of a truly fragmented industry. With typically low barriers to entry, no licensing, federal or state oversight and no other reliable brand to turn to, consumers are weary and likely to experience poor results and dissatisfaction. Savvy customers are thrilled to find highly trained Grout Doctor specialists and a recognizable brand!
Why a Grout Doctor Franchise?
Consistently Highly Ranked by Industry Publications
No other company in the business has more rankings. Grout Doctor rankings include:
Entrepreneur Magazine's Annual FRANCHISE 500 for 2008 and 2009
Entrepreneur Magazine's TOP 100 Low-Cost Franchise List for 2008
Franchise Business Review's Top 50 Franchise Satisfaction Award for 2007 and 2008
Entrepreneur Magazine's TOP 50 New Franchises for 2006
Most Experienced and Dependable
Grout Doctor Global Franchise Corp is the longest established national franchise in the industry with an unmatched support system! Not only are we setting the standards for our industry, but The Grout Doctor® founder created it!
Desirable Customer Benefits
Using our systems and products, our customers :
Save money by avoiding expensive and unnecessary remodeling
Save time by minimizing unpleasant and time consuming maintenance
Enjoy the convenience of most jobs being completed in 1 day or less
Comprehensive Support System
The growth of The Grout Doctor® depends on the growth of our Franchisees! We take tremendous pride in providing an extensive franchise support system including:
Proprietary Franchise Management Software
Online Advertising & Print Center
Grout Doctor Professional Product Line
Grout Doctor Consumer Products
Toll-Free Technical & Marketing Support
Discounted Advertising Programs
Discounted National Direct Mail Advertising Programs
Monthly coaching and support calls
Monthly Newsletters
Quarterly Teleconferences
Annual Conventions & Awards
Extensive Intranet site
Statistical Data
Flexible Family Friendly Business
These statistics show that the flexible schedule a Grout Doctor franchise provides has the potential to accommodate your family, fit into your lifestyle, and reach your desired level of work-life balance:
84% of all Grout Doctors are married
43% have families with children less than 18 years of age
33% have family members working in the business
20% of all Grout Doctors are husband and wife teams
This Grout Doctor, The franchise opportunity and other franchise business opportunities, businesses and franchises for sale on this web site are not to be considered as an "offering", "franchise offering", suggestion or recommendation by Franchise Leader™. This advertisement depends entirely on the truthfulness of the information provided by our advertisers which includes, but is not limited to, franchisers, franchise brokers, franchise consultants and business brokers. Franchise Leader™ recommends that you consult a lawyer, financial consultant, accountant or professional advisor before buying a franchise or business opportunity or any type of business. By using this form or any part of our website, you have agreed to all terms and conditions of Franchise Leader™. Please review our