A Variety of Location Options
The Great Steak & Potato Company offers a variety of location configurations for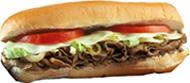 store units and business options.
Free Standing Units
Mall Units
Strip Center Locations
Airport Food Courts
Experience The Great Steak & Potato Company
The Great Steak & Potato Company not only has a tremendous, unparalleled success record, but also the proven experience only obtained from a system with hundreds of franchises already established. We invite you to learn more about The Great Steak & Potato Company franchise program and share the experience.
Franchise with Us
As one of the fastest growing franchising and marketing companies in North America, The Great Steak & Potato Company Restaurants are owned by the Kahala Corporation, a privately held corporation dedicated to the design, development and marketing of quick service restaurants.
Kahala supports its franchisees by providing seasoned real estate guidance, ongoing operational support, and turnkey marketing programs designed to optimize profitability and boost register receipts.
We are currently licensing area development deals as well as franchise agreements for all of Kahala's branded concepts, which includes a variety of good-for-you branded concepts that are in step with today's growing trend towards low-fat, nutritious eating. They include Blimpie, Cereality, Cold Stone Creamery, Frullati Cafe, Great Steak & Potato, Johnnie's NY Pizzeria, Nrgize, Ranch 1, Rollerz, Samurai Sam's, Surf City Squeeze and TacoTime - all of which deliver strong unit economics, people-pleasing menus and operational ease. Kahala is also offering co-branded opportunities to both existing franchisees as well as new prospects.

Great Food and Ease of Operation - That's The Great Steak & Potato Company.
Since 1982, The Great Steak & Potato Company has been serving the finest Cheesesteak sandwiches in hundreds of locations throughout the U.S., Canada and abroad. Our recipe - freshness. We use the finest ingredients, prepared to order, to ensure the freshest, most delicious eating experience.
A True "Meat and Potatoes" Concept
The Great Steak & Potato Company's concept is a simple one. A "meat and potatoes" fast food operation that provides a unique visual, sensory and eating experience, with an emphasis on low cost and high value for the customer and a low operating cost and high return for the store.
Signature items, the one's The Great Steak & Potato Company are famous for, include: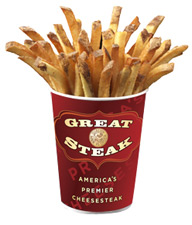 Genuine Philadelphia Cheesesteak Sandwiches
Fresh-Cut French Fries
Fresh-Squeezed Lemonade
Chicken, Ham and Veggie "Philadelphia's"
Baked Potatoes with all the Toppings
Easy to operate and all of the support you need from an experienced operator.
At The Great Steak & Potato Company, we share a belief that every individual has the right to attain - and enjoy - his or her personal potential. We believe that the sky is the limit - and that there should be no barrier to reaching this limit.
That's why we have made The Great Steak & Potato Company one of the easiest franchises to own - and operate - in all of retailing today.
Opening a Great Steak & Potato restaurant is not new to us - we currently own and operate 20 restaurants ourselves. While each store is unique, we strive to make the process as easy as possible. We work with the franchisee to complete construction drawings, hire contractors and train employees.
At no time do we leave your side. From planning to set-up to opening to ongoing store operation, we are there to assist you and keep you a productive member of The Great Steak & Potato Company team.
This Great Steak & Potato Company, The franchise opportunity and other franchise business opportunities, businesses and franchises for sale on this web site are not to be considered as an "offering", "franchise offering", suggestion or recommendation by Franchise Leader™. This advertisement depends entirely on the truthfulness of the information provided by our advertisers which includes, but is not limited to, franchisers, franchise brokers, franchise consultants and business brokers. Franchise Leader™ recommends that you consult a lawyer, financial consultant, accountant or professional advisor before buying a franchise or business opportunity or any type of business. By using this form or any part of our website, you have agreed to all terms and conditions of Franchise Leader™. Please review our