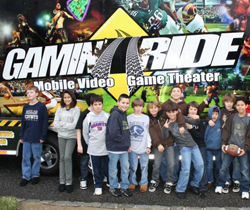 About Us

Gamin' Ride is an entertainment theater on wheels. The adventure rolls up to doorsteps hosting events from birthdays to corporate, community and fundraisers around town. Gamin' Ride is an affordable alternative to traditional parties offering something new and exciting. Best of all, it's all held in the convenience of the host's own location. Our air-conditioned and heated unit has the latest and greatest gaming systems such as XBOX 360, PlayStation 3 and Nintendo Wii. All of our events are hosted by a Game Guru who brings all participants together regardless of skill level.

With so many kids and adults into video gaming, marketing a unique way to play these games in a fun, social environment is proving to be a very interesting concept. We are forging new ground with this concept and the future is bright.
Why Gamin' Ride?
No brick or mortar real estate
No landlord negotiations or tenant improvements
No long term leases
Be in business in less than 90 days
No inventories, no theft
No spoilage
No employees
Inexpensive Start Up
Video Games are HOT
The most unique concept anywhere
No waiting for customers to come to you - you go to them
Simple to operate with an incredible operating system
Tremendous Earning Potential
Easy expansion Opportunities
Training & Support
One Week Training at Gamin' Ride Headquarters
One Week Training On-Site
Field Training
Intranet – Ongoing Online Videos & Tutorials
Annual Convention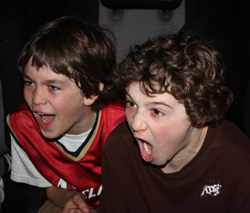 Marketing Overview

An aggressive well-executed marketing plan is critical to the long-term success of your Gamin' Ride Franchise. Here are key areas we believe contribute to a successful marketing strategy:
System-wide and local market planning process
System-wide brand building strategies
On-going client research and measurable data
Gamin' Ride grand opening plans
Aggressive Road Show Marketing
Continued experience via pictures, video, email & SMS
Consistent and on-going communication
Franchisee participation
Join the Team!

Complete the form below for more information and to schedule your "Join the Team" Day visit.



Click on Request Information for FREE info on how to open a Gamin Ride Mobile Video Game Theater franchise today!
Please Note:
This Gamin' Ride Mobile Video Game Theater franchise opportunity and other franchise business opportunities, businesses and franchises for sale on this web site are not to be considered as an "offering", "franchise offering", suggestion or recommendation by Franchise Leader™. This advertisement depends entirely on the truthfulness of the information provided by our advertisers which includes, but is not limited to, franchisers, franchise brokers, franchise consultants and business brokers. Franchise Leader™ recommends that you consult a lawyer, financial consultant, accountant or professional advisor before buying a franchise or business opportunity or any type of business. By using this form or any part of our website, you have agreed to all terms and conditions of Franchise Leader™. Please review our
Terms & Conditions
for more information.