Following are the financial requirements for a DQ Orange Julius store:


Minimum Net Worth:
Liquid Assets:
On-going Royalties:
On-going Sales Promotion Fee:
Term of Franchise Agreement:

$200,000
$175,000
5%
3-6%
Shorter of 15 years or the term of the store lease

The following figures are estimated investment costs for a strip center store with a drive-thru. The actual cost associated with a specific project may vary from these ranges. For information on additional costs that may be incurred, please refer to our Franchise Disclosure Document.


Initial Franchise Fee:
Leasehold Improvements:
Equipment:
Working Capital:

$25,000
$200,000 - $260,000
$180,000 - $260,000
$45,000

This information is intended to give you a brief synopsis of a DQ Orange Julius project. Opportunities for development exist that could vary from the typical project.
Testimonial
"I really enjoy being a DQ Orange Julius operator. A DQ Orange Julius store is a fun business to operate and is easy to manage compared to other quick service restaurants. The design of the store is very competitive within the mall food service environment. The representatives I work with at ADQ are very helpful, cooperative & professional.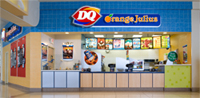 I would highly recommend this concept to anyone looking for a new business opportunity."
Ron Hein
DQ Orange Julius Franchisee
Dover, DE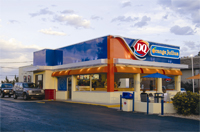 A DQ Orange Julius franchise combines our Dairy Queen products with our Orange Julius premium fruit smoothies and fruit-blended beverages. The mix of unique, quality product lines that this concept offers in a single store makes our DQ Orange Julius concept a popular choice for treat and impulse purchase environments. Franchise opportunities are available in select markets across the United States.


Location opportunities include: Conversions of existing buildings, freestanding stores, strip centers, dual use buildings, malls, airports, and other non-traditional venues.
Our basic requirements for new franchisees include a review of your background, work experience, and financial capabilities. In general we are looking for investors or individuals who have the following:
prior retail or foodservice ownership or management experience
a proposed management plan
the financial resources necessary to develop and operate the store
a passion for building the DQ and Orange Julius brand
This DQ Orange Julius franchise opportunity and other franchise business opportunities, businesses and franchises for sale on this web site are not to be considered as an "offering", "franchise offering", suggestion or recommendation by Franchise Leader™. This advertisement depends entirely on the truthfulness of the information provided by our advertisers which includes, but is not limited to, franchisers, franchise brokers, franchise consultants and business brokers. Franchise Leader™ recommends that you consult a lawyer, financial consultant, accountant or professional advisor before buying a franchise or business opportunity or any type of business. By using this form or any part of our website, you have agreed to all terms and conditions of Franchise Leader™. Please review our