We're looking for professionals with high earning capacity
Do you have a sales or sales management background? And / or
Are you already in business consulting or business coaching? And / or
Are you already a sales trainer or a sales training company? And / or
Have you a sound commercial background?
As a DEI Licensee, you will be bringing value that companies simply cannot get elsewhere.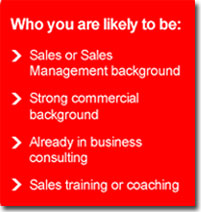 A Proven Business Opportunity
An initial investment of only $20,000
Choice of License payment plans
There are no territory restrictions
Takes only 2 – 3 weeks to ramp up
No extra fees or reporting: it's a no-hassle deal
A recession-friendly industry
Decide your level of profitability Vs personal time
Work from home office; keep overheads low
Earn Strong Profits
Training salespeople is a $4Bn industry in the US alone each year
Overheads are low and net profit can easily exceed 50%
Only a small number of clients needed to be profitable
Proven path to success in first 6 months
A Great Package at Low Cost
5 days of World-class (Sales) Training
No Inventories needed
Selling & Marketing tools kit
Rich marketing content for online distribution
Licensee resource centre
What DEI offers is what companies need most – in hard times. Your timing is perfect!
What our Licensees are saying:
I am part of the DEI network because the DEI process works for my clients and therefore, it works for me. I asked a VP of Sales – before I joined DEI - why they continued to use the DEI sales system and he said "I give you $1 and I get back $5." And that's exactly what I found!
Don Mersereau, President, DEI Management Ottawa
I have been an Owner of DEI Sales Systems for over 5 years now and am blessed to do work daily that I truly enjoy and that's extremely rewarding financially. The programs produce real results and I've been able to consistently grow and maintain a loyal customer base. Feel free to contact me if you'd like more information on my experiences over the last few years.
Marisa Pensa, Owner and President of Methods in Motion
A DEI Licensee – Atlanta
DEI is owned by people who themselves have already done what they are now asking you to do. Not only have they the expertise to help you succeed in the first 6 months, they are all personally committed to helping you become a long term success. Get started and fill in the form below.



Click on Request Information for FREE info on how to open a D.E.I. Sales Training franchise today!
Please Note:
This D.E.I. Sales Training franchise opportunity and other franchise business opportunities, businesses and franchises for sale on this web site are not to be considered as an "offering", "franchise offering", suggestion or recommendation by Franchise Leader™. This advertisement depends entirely on the truthfulness of the information provided by our advertisers which includes, but is not limited to, franchisers, franchise brokers, franchise consultants and business brokers. Franchise Leader™ recommends that you consult a lawyer, financial consultant, accountant or professional advisor before buying a franchise or business opportunity or any type of business. By using this form or any part of our website, you have agreed to all terms and conditions of Franchise Leader™. Please review our
Terms & Conditions
for more information.