The CareMinders® Home Care Difference
Join THE franchise system that DOES NOT limit you
You are NOT limited to the NON-MEDICAL Home Care Market
The Medical Home Care Market may be available IF YOU WANT to serve it
Over Ten Different Potential Revenue Streams
Serve the entire population in your designated territory Regardless of Age
Non-Medical + Medical =
CareMinders® Home Care

Ageless
One of the strengths of the CareMinders® Home Care model is the range & number of services CareMinders® Home Care Franchisees can offer their clients.
You will be able to provide your clients with both long & short term assistance REGARDLESS OF AGE or type of illness, injury or other needs.
What does the investment cover?
Designated Territory - Location is critical and we will work with you to define a designated territory based in part on the demographics including age, number of households, income and other factors.
State Regulations - navigating the state and local regulations and permitting requirements can be quite challenging and we will assist you in the critical phase of business development so you have the proper licenses needed.
Training - having the tools and systems in place to build and manage your business is paramount and our five day training course is extremely thorough.
Operations Manual - we provide you with a copy of the official CareMinders® Home Care operations manual is your blueprint to building and growing your CareMinders® Home Care franchise.
Management Software - we found the best home care software company in the U.S. to provide our franchisees with a complete business application for the daily management of their business.
Ongoing Assistance - you will never be alone. Our team will provide continued training and support for all aspects of the business.
Marketing Support - we have the marketing pieces, programs and other tools you will use to create the marketplace recognition you will achieve and assist you in attracting new customers and increased revenues.
Is a CareMinders® Home Care Franchise For You?
Are you tired of working for someone else?
Are you ready to be in business for yourself, yet not by yourself?
Would you like to be involved with a franchise system on the ground floor of an industry which is in the early stages of an expected 25 year boom?
Do you have a desire to help others who need some extra care?
If You Answered Yes To These Questions
CareMinders® Home Care Franchise Opportunity Just May Be What You Are Looking For!
The idea of starting a new career and launching your own business at the same time can seem like an overwhelming challenge. Going it alone is even more challenging and much tougher than most people would expect. The demands and pressures that comes with planning, operating, and navigating a business from it's earliest stages through opening day and beyond involves many critical processes. Because of this, many people find joining a proven franchise system appealing. A well run franchise system with a proven concept in a growing industry can help in reducing the stress and managing the challenges and risks of starting a business because so much of this work is done for you. Combine those benefits with the ongoing support are main reasons franchising is the preferred method for staring a business for many looking to fulfill their dream of business ownership.

CareMinders® Home Care, Inc. is one of those franchise opportunities. CareMinders® Home Care stands behind you from your very first contact with us. We will assist you throughout your planning stage; we will be there when you become a franchisee and attend CareMinders® University for training and we will be standing beside you when you launch your CareMinders® Home Care franchise. We will be there to provide you with ongoing training & support for the systems and tools you need to build your CareMinders® Home Care Franchise; including our superb marketing program and state of the art operations programs. As a CareMinders® Home Care Franchisee, you will truly feel a part of a winning and united team. A team that is strong, growing and responding to exciting and challenging opportunities the Home Care Industry has to offer.
Multiple Revenue Stream Opportunities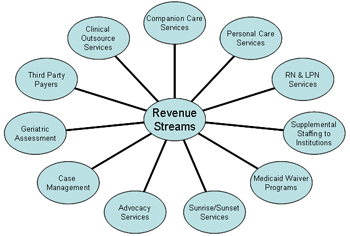 Click on Request Information for FREE info on how to open a CareMinders Home Care franchise today!
Please Note:
This CareMinders Home Care franchise opportunity and other franchise business opportunities, businesses and franchises for sale on this web site are not to be considered as an "offering", "franchise offering", suggestion or recommendation by Franchise Leader™. This advertisement depends entirely on the truthfulness of the information provided by our advertisers which includes, but is not limited to, franchisers, franchise brokers, franchise consultants and business brokers. Franchise Leader™ recommends that you consult a lawyer, financial consultant, accountant or professional advisor before buying a franchise or business opportunity or any type of business. By using this form or any part of our website, you have agreed to all terms and conditions of Franchise Leader™. Please review our
Terms & Conditions
for more information.