ampm - A Brand That Stands Apart

Open 24/7, ampm locations combine a large, open convenience store with the Wild Bean Café concept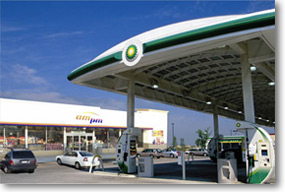 (at select large format stores). Powerful, distinctive branding is the cornerstone of ampm's high visibility in the convenience-store industry. By combining top brands with our own unique, in-demand offerings, ampm franchises will continue to lead in the convenience-store industry.

Why BP and ampm?

Confidence - Investment in the BP and ampm brands yield the confidence of knowing you're aligning yourself within a dynamic business model.

Experience - BP has over 25 years of operating experience within the petroleum convenience store industry.

Franchise Management And Employee Training

New franchisees participate in our comprehensive training program developed to teach you how to operate your business utilizing a combination of classroom instruction and self study training in an ampm facility. The program includes everything from gasoline marketing to customer service and food safety.


Becoming an ampm franchisee is a serious commitment; however the rewards are immeasurable:

Instant Brand Awareness
Strong And Stable, World Corporate Leader
Customer Focused, Performance Driven Business Model
Corporate Support With A Successful History Of Building Business
Access To Our Worldwide Network
What Do We Look For In A Franchisee?
We are seeking business people with a passion for quality and service. We are committed to building upon our position as the leader in the Petroleum Convenience Store industry.
We invite you to reap the benefits of our success.
None of the communications made through this web page should be construed as an offer to sell any
ampm
franchise in, nor is any such communication directed to, the residents of any jurisdiction requiring registration of the franchise before it is offered and sold in that jurisdiction. No
ampm
franchises will be sold to any resident of any such jurisdiction until the offering has been exempted from the requirements of, or duly registered in and declared effective by, such jurisdiction and the required Uniform Franchise Offering Circular (if any) has been delivered to the prospective franchisee before the sale in compliance with applicable law. If you have any questions concerning the registration status of
ampm
franchises in your jurisdiction, please fill in the Franchise Gator inquiry form.
The materials on the Site describe
ampm
's franchise offering. If you wish to be considered, we ask that you please complete and submit an expression of interest via our Franchise Inquiry Form. Neither this web site, nor your submission of an expression of interest, constitute an offer to sell or to purchase a franchise, nor shall it create any contractual or other obligation to one another.
Potential Markets
We are seeking franchisees in the Mid-Western and Eastern Regions of the US.
This BP ampm franchise opportunity and other franchise business opportunities, businesses and franchises for sale on this web site are not to be considered as an "offering", "franchise offering", suggestion or recommendation by Franchise Leader™. This advertisement depends entirely on the truthfulness of the information provided by our advertisers which includes, but is not limited to, franchisers, franchise brokers, franchise consultants and business brokers. Franchise Leader™ recommends that you consult a lawyer, financial consultant, accountant or professional advisor before buying a franchise or business opportunity or any type of business. By using this form or any part of our website, you have agreed to all terms and conditions of Franchise Leader™. Please review our